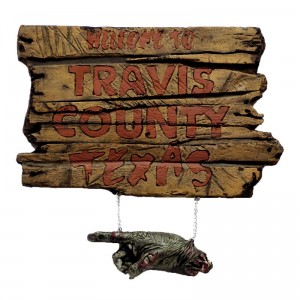 For anyone who has seen the Texas Chainsaw Massacre movies you will know what we mean when we talk about Travis County. Travis County is a small county of Southern Texas which plays home to the monster that we all know as Leather face, Thomas Hewitt.
Well this Halloween you can now play host to your very own Travis County with this highly authentic and realistic Travis County road sign. It's time to invite your guests into the slaughter …. we mean party! This very realistic and chilling road sign points the way to the Travis County with a severed and gangrenous hand, probably the hand of one of Thomas Hewitt's victims.
The sign is made from plastic but looks like wood with the brown coloring and areas of shading throughout. The text on the sign looks hand written in red paint (or blood) and simply reads "Welcome To Travis County Texas" … welcome not really the thing Thomas Hewitt had in mind when his victims found themselves in the infamous Travis County.
The sign is made from plastic so you will need to make sure it's not exposed to any naked flames. It's made in a height of 14 inches by 20 inches wide. The product is an officially licensed Texas Chainsaw product so you can except exceptional quality just like with all of the Texas Chainsaw costumes and products available to buy.
This sign is the perfect addition to any Halloween party, especially if you're planning on going dressed in a Leatherface costume.